Fitted Ceiling
The exclusive and quick lining for your ceilings!
decorating and modernising
quick and neat fitting
appealing illumination concepts
no more ceiling coating
no more dust or grooves, suitable for allergic people
10 years manufacturer guarantee
Wouldn't you like to re-experience the atmosphere in your rooms?
We would only be too pleased to inform you!
What exactly is a fitted ceiling?
A fitted ceiling consists of an especially developed, tear proof and waterproof polymer film. This especial soft film, which is been shaped into paths, is produced by milling. After this first step of the production process, the material is tailored to the exact size of your ceiling. Later on, the paths are tied together by welding. A semi soft welting is welded to the outer edge of the entire area of the ceiling by using the HF-method.
Beads for the fixation to the ceiling or the wall are attached to the inside of your room. The fitted ceiling, with a size up to 50-60 sqm, is than chucked to the beads. The assembled area of the fitted ceiling is about 7% smaller than the actual area of the ceiling in your room. Due to this and the fact that the film is stretched and clamped at 40°C, the result is truly astonishing. The entire fitted ceiling is absolutely levelled. This can be proven by more than 25 years old references from leading manufacturers.
Depending on the different manufacturers you can choose from 32 up to 200 colours. High glosses as well as matt-finished, matt-deluxe, marmoreal, metallic or velour surfaces are available.
Matt or translucent surfaces are especially suitable for digital imprinting or back-lighting. These surfaces fit particularly well into salerooms.
In addition to that, some manufacturers offer perforated fitted ceilings in order to increase the acoustic damping of the room. Furthermore, more perforation alternatives are available to make the use of a sprinkler fire-extinguishing installation possible.
Absolutely up-to-date is the new possibility of decorating a lighting ceiling or wall by using translucent film and RGB coloured-light regulation.
Due to the very quick and clean fitting, the fitted ceiling is an essential product for your interior upgrading, not to forget the price-performance ratio, which is truly convincing.
Safety and fire behaviour
Combustion classification:
DIN 4102, Class B1 (hardly combustible)
Mass per unit area:
ca. 180 to 240g/m²
Thickness:
DIN 53353; 0,18mm ±10%
Density:
at 23°C ca. 1,4g/ccm
Reflector metre brightness measurement:
DIN 67530; ME >60
Coldness fracture temperature:
DIN EN 1876-2; >-5°C
Ripping expansion:
DIN EN ISO 527-3 / 1B / 200
longitudinal 25Mpa
lateral 23Mpa
Tear stability:
DIN EN ISO 527-3 / 1B / 200
longitudinal 200%
lateral 250%
Odour:
typical but weak characteristic smell
The above listed data are general manufacturers' specifications. You can ask your local specialist dealer for further information.
Material
The fitted ceiling or wall film is made of polymer. The material can be recycled and is free from cadmium, quicksilver, PCP, PCB, silicon and latex. The ceiling and wall film represents no health hazards and is made of the best analysed plastic and raw material. The especially produced polymer material is also used in pharmaceutical companies or in the food industry.
Advantage: The material can be revised at any time.
Guarantee
As a general rule, the manufacturers issue a 10year guarantee for all assembled works.
Profiles
Visible wall or ceiling profiles with decor beads, hidden aluminium shadow-gap profiles for walls or ceilings.
Technical arrangement
With a size of about 50-60 sqm, the fitted ceiling is spanned from wall to wall without a substructure. Modular elements or hanging down ceiling canvasses can be easily realised due to the variety of profile solutions. This is very interesting in the field of commercial constructions.
Fitting and fixation
The fitted ceiling is produced accurate to measurement by the manufacturer and is provided with a welting. Under the influence of warmth, the ceiling is attached to a bead profile by your specialist company.
While cooling down, the ceiling tightens itself. The result is an absolutely levelled surface. Lighting, ventilation and sprinkler can be easily installed.
Before and after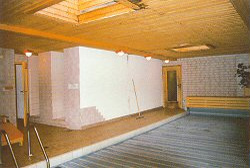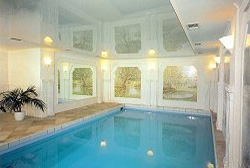 Hotel pool: Hotel Kunz, Pirmasens
Decoration and arrangement of a 20 years old pool in a hotel. Walls and ceilings were insulated with heat insulation plates.
Arrangement of the wall: Structuring of the windowless room by using tile pictures and pilasters. The tile pictures, showing beautiful park sceneries, were made by "Atelier Hrubes".
Ceiling arrangement: The tile pictures are reflected by the fitted ceiling which makes the low-ceilinged room look higher and larger.
Realized and provided with gracious approval by Fa. Hrubes Innenausbau, www.hrubes-innenausbau.de.
Scopes for design
ceilings give you the possibility to design an entire new and noble room ambiance.
A huge variety of lighting installations and systems can help you to create an ideal and unique atmosphere. Halogen spotlights as well as a premium starry sky can be integrated. Already existing illumination devices can be built in the fitted ceiling.
By combining the above mentioned creative techniques with a certain floor design, Mediterranean, oriental, antique or vanguard atmospheres can be created.
Frosted glass like, translucent, fitted light ceilings are an interesting and economic alternative to conventional lighting systems. They can provide the most suitable illumination for offices or salerooms - the result is an extensive light source. This is also available in a large variety of sizes and patterns and the complex substructure is not necessary as well.
A huge selection of colours and surfaces gives you the possibility for individual realisations.
Advantages of fitted ceilings
Fitted ceilings create a fantastic atmosphere in your rooms.
Due to the low weight of about 180-240g/sqm you don't need any substructures. In rooms with a size bigger than 60sqm the fitted ceiling can be mounted without any visible gaps, since there must be a separation whenever the size is bigger than 60 sqm. This is necessary because otherwise the ceiling would droop due to its own weight.
Fitted ceilings can be used in any kind of room - askew ceilings, domes, illumination devices, ventilation systems and even complex outlines do not constitute any problems.
Fitted ceilings can enlarge rooms optically and they support the ideal illumination of a room.
A huge selection of surfaces and colours allows a big variety of first-class designs.
Fitted ceilings are long-lasting.
easy to clean and hygienic.
water vapour insensitive.
They do not cause dew point accumulation.
They are up to 98% antistatic and due to that free from dust.
They are thermal insulated and energy saving.
They can be recycled and are recirculated to the cycle of potentially recyclable resources by the manufacturers.
They are free from asbestos, cadmium, dioxin and formaldehyde.
They are removable and due to the micro perforation they absorb sound and are damming.
They are absolutely insensitive towards variations of temperature.
They are suitable for allergic people.